ROYALCHESS
learn to love thinking, enjoy chess aesthetics and be a winner
"I don't teach kids how to play chess, I teach them how to think strategically and creatively through chess so they can think independently and make effective decisions, whether it's in their game of chess, or in life."
- Tigran Gyozalyan
FIDE Master & Coach of World, ASEAN, European, Armenian and Singaporean champions
Tigran gyozalyan's coaching methodology
1. Teaching HOW To Think
In RoyalChess, Coach Tigran places importance on thinking processes and creativity of students with the aim to appreciate the chess aesthetics and minimise dependence on memorising. Eventually, students will be able to apply these skills in other aspects of their life such as studies.
2. Developing Talents Through Individualised Approach
Coach Tigran is adept in discovering hidden talents. He is able to identify strengths in students that may not be noticeable by others. He recognises that each child is unique and provides individualised training so the students can maximise their strengths and become more confident.
3. Character Development & Growth
Sportsmanship and character development are core values of RoyalChess. What's the point of reaching success at the expense of one's ethics? Coach Tigran encourages students to be noble and respectful, and at the same time, strong and courageous. That is how champions are made at RoyalChess.
Note: While most of Coach Tigran's are children, he also works with adult students who are lifelong learners and are keen to develop their chess skills.
What makes coach tigran different?
Coach Tigran is the only chess coach in Singapore who has specialised education in coaching in chess.
❖ 1976-1980 Russian State University of Physical Education, Sport, Youth and Tourism, Russia, Moscow.
Degree of Bachelor of Science in Education (Physical Education, Chess)
❖ 1985-1987 Russian State University of Physical Education, Sport, Youth and Tourism, Russia, Moscow
Degree of Master of Science in Education (Coach of Highest Qualification in Physical Education, Chess)
❖ FIDE Trainer, 2005
❖ FIDE Master, 2005
❖ Previously Master of USSR, 1991
(USSR consisted of 15 countries and held some of the greatest chess players ever in the world)
Most people think they need to be coached by a grandmaster… but why not work with a coach who has prepared a grandmaster?
That's right, one of Coach Tigran's students – Samvel Ter-Sahakyan – whom he had been working with since 5 years old became the youngest grandmaster in Armenia at the age of 14. 
3. Results As A Chess Player
❖ The highest International Rating was 2360
❖ Participant in Armenian Men' Championship – The Highest League 9 times 4th position twice in 1982 and 1984
❖ Member of Armenian Chess Youth Team 1972-1974 
❖ The Champion of Youth Trade Unions Chess Olimpiad of Moscow, Moscow, 1976 
❖ Champion of the Voluntary Sports Society "Dynamo " in Rapid Chess, Moscow, 1990 
❖ 6th position (120 participants, 10 GM and 25 IM) inInternational Chess Tournament in Sibenik, Croatia in 1987 
4. Results As A Chess Coach
❖ Coach of Derek Lim (CM), Young Hoon Jung (CM), Annabel Hii, Mark Hii, Lee Qing Aun (FIDE Master), Joel Ong in Singapore [World, ASEAN and Singaporean champions]
❖ Coach of Samvel Ter-Sahakyan (GM), Narine Gasparyan (WIM), Liana Aghbekyan (WIM) [World, European and Armenian champions]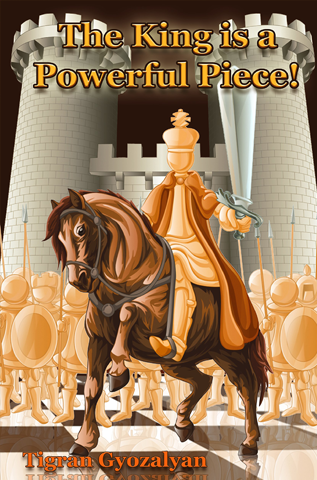 Coach Tigran's book was Published in Boston, USA and Moscow, Russia
Foreward by Levon Aronian, GM
(Ranked no. 2 in the world in FIDE rating list)
Cowering in the middlegame, towering in the endgame: chess theory teaches that the king needs protection from enemy pieces until the ending, when finally it can come out from hiding to decisive effect.
But what if the king can take care of itself, and even march out to battle with its army?
FIDE Master and coach Tigran Gyozalyan fills a gap in the chess literature with the first systematic exploration of the king's role and capabilities in the opening and the middlegame.
The book presents the active role of the King in the opening and mainly in the middlegame. There are 100 samples with analysis and explanations.
Tigran Gyozalyan is a master and trainer for many years – among his students are Derek Lim, world champion under 7 or Ter-Saakyan, world champion under 18.
RoyalChess is a chess academy founded by professional chess trainer Tigran Gyozalyan in Singapore, in the year of 2012. 
Coach Tigran mainly conducts private chess lessons for kids who have keen interest in chess. Coach Tigran also conducts chess lessons in local and international schools such as Raffles Institution, Hwa Chong Institution, ACSI and Northland Primary etc.
Many of Coach Tigran's students have shown outstanding results within a short period of time of working with him in the national chess competitions.
RoyalChess collaborates with Go Checkmate for school chess lessons.
*This is not where Royalchess is located but some lessons are conducted here. Most clients choose to have their lessons at the comfort of their homes.